Kundali Bhagya: Rishabh's drunken drama confess love for Preeta shocking twist ahead (Upcoming Twist)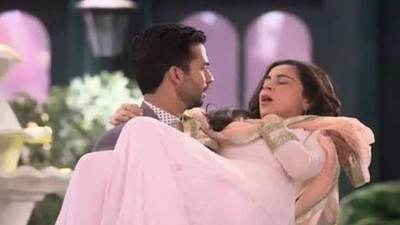 Kundali Bhagya: Rishabh's (Manit Joura) drunken drama confess love for Preeta (Shraddha Arya), shocking twist ahead
The upcoming episode of Zee TV's popular daily soap Kundali Bhagya is up for high voltage drama.
Karan and Preeta are planning to get Sherlin drunk with bhang and thus make her confess her pregnancy truth.
Karan makes all attempts to make Sherlin drink the bhang but opposite happens.
Sherlin plays her smart game where she makes Rishabh get drunk and here he starts to confess love for Preeta.
Sherlin and Prithvi's evil plan
Sherlin is not shocked to hear this as she very well knew that Rishabh had feelings for Preeta while Prithvi fumes as Rishabh takes his Preeta's name.
What more drama to unfold up next as Prithvi is planning a big blunder ahead and major drama will unfold up next.
Stay tuned for more exciting updates of the upcoming episodes only on serialxpress.com