Tujhse Hai Raabta: Kalyani's life in danger all credit to Aparna (Upcoming Twist)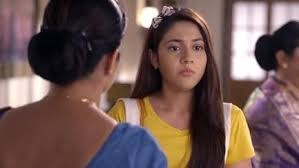 Tujhse Hai Raabta: Kalyani's (Reem Shaikh) life in danger, all credit to Aparna
The upcoming episode of Zee TV's popular daily soap Tujhse Hai Raabta is up for high voltage drama.
Kalyanu has kept Saraswati fast for Malhar as she wants to free him from all allegations.
Kalyani knows that Malhar had not done anything and thus by keeping fast and requests god to save Malhar.
Sampada and Aparna are not ready to let Kalyani's fast be fulfilled and thus adds trouble in her way.
Kalyani's life in danger
Kalyani had applied a pack on her face and thus needs to wash it and thus Aparna adds leaches in water to harm Kalyani.
Kalyani was about to drop that water over herself, will Kalyani be harmed as per Aparna's plan and her fast will break.
Stay tuned for more exciting updates of the upcoming episodes only on serialxpress.com