Ishq Mein Marjawan: Abhimanyu attempts to kill Deep returns for secret mission (Upcoming Twist)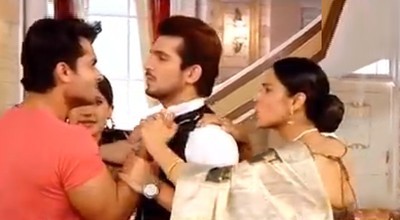 Ishq Mein Marjawan: Abhimanyu attempts to kill Deep returns to dig Manpreet's murder mystery
In the thriller daily soap Ishq Mein Marjawan the viewers and the avid fans will see a major fight between Abhimanyu and Deep.
In the recent episode we have seen Deep dead and Manpreet's shocking murder.
But twist comes in tale when Deep returns alive shocking his family.
Nevertheless, Abhimanyu grabs Deep and throttles him to kill him dead but Tara, Vasundhara save Deep.
Deep puts all allegations on Abhimanyu while Abhimanyu inquires Deep about Manpreet.
Deep's secret hunt
The family confronts Deep while Abhimanyu calls Deeo murderer of Manpreet.
Deep has returned alive to dig out the mystery of Manpreet's murder meanwhile Police also come there.
It will be super exciting to watch what will happen with Deep.
Stay tuned for further updates and latest news.