Mariam Khan Reporting Live: Love in the air amid Fawad Mariam in Aaliya's birthday (Upcoming Twist)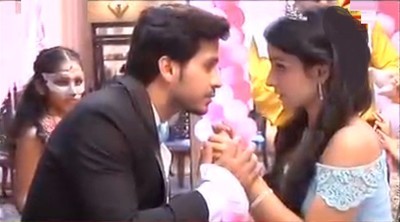 Mariam Khan Reporting Live: Love in the air amid Fawad (Param Singh) Mariam (Mahima Makwana) in Aaliya's birthday
Star Plus daily soap Mariam Khan Reporting Live is witnessing Aaliya's birthday party.

Fawad and Mariam organize Aaliya's birthday party with exciting wonderland theme.
Where Fawad's Dracula look and Mariam's Cindrella's look adds a major twist in the birthday,
The duos come intense close to each other while the kids start enjoying party and dance together.
Fawad and Mariam's cute love story
Fawad and Mariam's cute love story is on the head that they both share romantic eyelock moment forgetting about the guests and kids in the party.
It will be interesting to watch further how Fawad and Mariam will fall in love with each other.
Stay tuned for further upcoming updates and latest news.