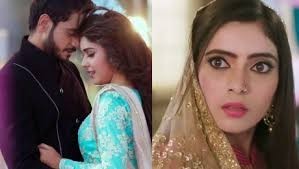 Ishq Subhan Allah: Zara (Eisha Singh) takes war against Rukhsar (Shipsy Rana) stands up for Kabir's love
The upcoming episode of Zee TV's popular daily soap Ishq Subhan Allah is up for high voltage drama.
Zara refuses to runaway and is ready to stand by Kabir, Zara knows that Kabir loves her and will never betray her.
Zara refuses to go away with her parents and is rather ready to take this war against Rukhsar.
Zara is ready to fight for her love and defeat Rukhsar's evil eye over her and Kabir's relationship.
Rukhsar and Zara's face off
Rukhsar is happy and challenges Zara and tells her that this time she is strong as it's about her love and right as Kabir's wife.
Will Zara and Rukhsar's this battle come to any end, how will Kabir deal with it.
Stay tuned for more exciting updates of the upcoming episodes only on serialxpress.com