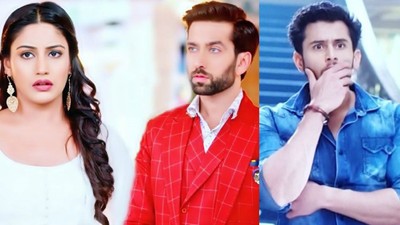 Ishqbaaz Latest: Anika (Surbhi Chandana) Shivaay (Nakuul Mehta) plans Rudra- Bhavya and Omkara- Gauri wedding, Veer furious
The upcoming show of Star Plus's most popular show Ishqbaaz will showcase more exciting turns and twists.
It was earlier seen that Rudra and Bhavya are sharing conflicts where Bhavya decided to leave Rudra forever.
Bhavya is about to leave Rudra where later Shivika managed to convince Rudra and Rudra confessed his love forth Bhavya.
While Rudra gets happy with all this and get mesmerized seeing Bhavya's all new love avatar for him.
Amid all this, Anika is planning that all Oberois Bhaus will wear red hot dresses and plans wedding again.
Veer gears up with new plan, Shivaay targeted
Veer is getting furious with all this and will cook new plan that he will make Anika widow before re marriage with Shivaay.
Will Anika let this happen?
It would be interesting to see what will happen next in show Ishqbaaz.
Keep watching this site for more exciting updates and upcoming twists in the show.