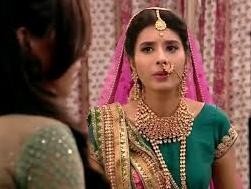 Mere Angne Mein: Nimmi confronts Sarla-Pari for filling poision in Preeti's mind against all the members of the family
In the upcoming episode, Sarla and Preeti talks to each other as they want to ruin Shanti Sadan's happiness.
They plan that they will fill poision in Preeti's mind so that they can ruin the happiness of shanti sadan.
Nimmi overhears their conversation and they gets shocked seeing Nimmi.
Nimmi to save Shanti sadan's happiness from Sarla-Pari's evil intentions
Nimmi says to them that they are not doing right by doing all this but they starts scolding Nimmi and asks her to mind her own business.
Nimmi then thinks that she will have to do something and bring their truth before Preeti so that they are not abe to use her in spoiling Shanti Sadan's happiness.
It will be interesting to see that whether Nimmi is able to expose Sarla-Pari before Preeti or not.
Stay tuned for the upcoming twist.