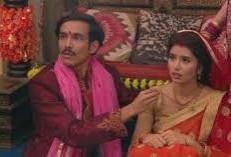 Mere Angne Mein: Preeti blames Nandu for kidnapping Lucky and makes him arrested
In the upcoming episode, Preeti gets shatteres as Lucky refuses to marry her.
Just then Nandu comes and he confronts Preeti post Lucky refuses to marry her.
Nandu wants to make her realize that he loves her so much.
Nandu criticizes Kaushalya for supporting her daughter instead of supporting his love for her daughter.
Police investigation exposes Lucky before the whole family
Later Preeti sees Lucky's shirt in the wardrobe and feels that Nandu knew about Lucky and so he kidnapped him.
Preeti makes Nandu arrested saying that he kidnapped Lucky.
Police takes Nandu to poilce station and investigates then they come to know that he himself is Lucky.
Preeti and all the members of the family gets shocked after knowing this.
Stay tuned for the upcoming twist.