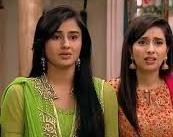 Mere Angne Mein: Nimmi gets shattered as well as angry as Preeti blames her for having affair with Nandu
In the upcoming episode, the show to witness high voltage drama as Nandu wants to open Preeti's fast.
Nandu does not wants Lucky to open her fast, Nandu determines to open her fast at any cost.
Preeti comes down and Nandu makes her drink water even when she refuses to have water from his hand.
Nimmi angry as Preeti puts accusation against her
Preeti gets angry as she wanted to have water from Lucky's hand but she is not able to say anything before Shanti.
Later Preeti accuses Nimmi for having affair with Nandu, Nimmi and Nandu gets shocked.
Nimmi gets angry and says that how can she even think about something like this.
Stay tuned for the upcoming twist.