Shakti Astitva Ke Ehsaas Ki: Harman change of heart walks away amid his haldi ceremony (Upcoming Story)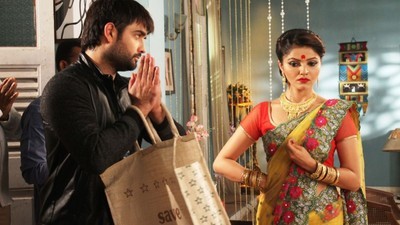 Shakti Astitva Ke Ehsaas Ki: Soumya (Rubina Dilaik) organizer of Harman (Vivian D'sena) and Jasleen marriage
The upcoming show of Colors Tv's most popular show Shakti AstitvaKeEhsaas Ki will showcase more exciting turns and melodrama.
As per ongoing track of the show Harman decided to marry Jasleen thus sideling Soumya love.
While there are many other dramas too where Soumya give up her mission to get Harman and decided to back step while she is organizer of Harman Jasleen marriage.
However amid all this, Harman is also having mixed emotions while Soumya is also upset seeing Harman face.
Harman walks away as Soumya ahead to apply haldi
While further when Soumya ahead to apply haldi to Harman, Harman gets upset and walks away with emotion feelings.
Soumya will derive a sadistic pleasure by this info and will wait the moment when Harman will come back to her.
It would be interesting to see what will happen next in Shakti Astitva Ke Ehsaas Ki.
Keep watching this site for more exciting updates and upcoming twists in the show.