Ishqbaaz: Veer throws Anika into watery grave marks her end Shivaay unaware (Upcoming Story)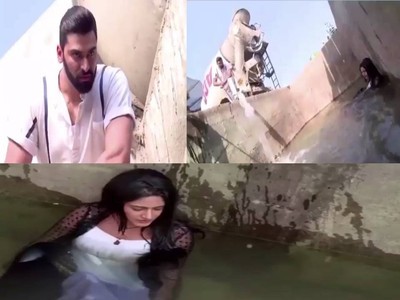 Ishqbaaz Latest: Shivaay (Nakuul Mehta) trapped by Veer and Roop, Veer kidnaps her
The upcoming show of Star Plus' most popular show Ishqbaaz will showcase more exciting turns and twists.
Shivaay is trying to keep Roop away from Anika where he is also failing Roop's plans but he is unaware that Veer is also back.
However where further post escaping from jail Veer kidnaps Anika thus blackmails Shivaay to marry Swetlana.
Amid all this, Veer takes Anika to some mysterious place while furious Veer decided to end Anika.
Veer deadly attack to kill Anika, Shivaay unaware
Where further Veer Will be seen dragging Anika mercilessly in water tank where Veer throws Anika in water tank and attempted to kill her.
Will Shivaay able to know truth at right time and will save Anika or Anika will get killed?
It would be interesting to see what will happen next in Ishqbaaz.
Keep watching this site for more exciting updates and upcoming twists in the show.