Ishq Subhan Allah Latest News 11th February, 2019 (Latest News)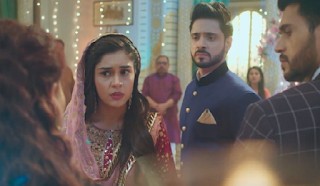 Ishq Subhan Allah Latest News 11th February, 2019
The upcoming episode of Zee TV's popular daily soap Ishq Subhan Allah is up for high voltage drama.
Zara and Kabir's life has taken new twist as Zara is scared seeing how Elina is getting closer to Amir.
Elina is falling in love with Amir and Zara very well knows that Kabir is totally against love marriage.
Zara is trying to turn situation better but here Zeenat will spill water over her.
Zara and Kabir's new trouble
Zeenat will make Kabir reach Elina where she was in hospital with Amir and Kabir is shocked to see Elina there.
Elina is shocked to see Kabir their as well while Zeenat is happy to see this and her plan gets successful.
What more drama is to unfold up next in Zara and Kabir's life, stay tuned for more exciting updates of the upcoming episodes only on serialxpress.com