GHKKPM: Virat major dilemma to choose Bhavani punishment or Sayi justice (Future story)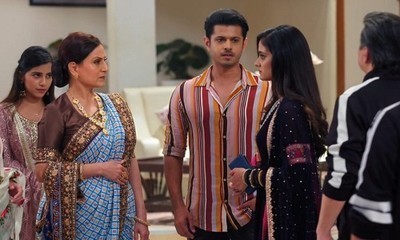 Ghum Hai Kisi Ke Pyaar Mein: Sai (Ayesha Singh)'s justice game makes Virat (Neil Bhatt) hurt
Ghum Hai Kisi Ke Pyaar Mein is Indian tv drama which telecasted on Star Plus, where its upcoming track of the show will bring much drama and suspense in the show.
As per latest track of show Sayi is all about to give justice to Shivani where Chavan family is against it.
Bhavani is all about to make SWayi understand the things but Sayi is not ready for that.
Moreover, Sayi meets with Amay making Chavan family hell furious over all this.
Virat and Bhavani anger to shower against Sayi
Sayi's silly mistake against Amay will bring disaster in Chavan family where Virat will too decides to teach lesson of limits to Sayi.
How Sayi will face all this drama?
It would be interesting to see what will happen next in the show Ghum Hai Kisi Ke Pyaar Mein.
Stay tuned with us for more exciting updates and upcoming twists in the show.