Anupama: Kavya threatening to Vanraj turns roadblock to blooming love story (Future story)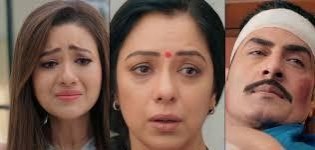 Anupama: Anupama deep in blues seeing kavya back in Shah family
Anupama is Indian tv drama which telecasted on Star Plus, where its upcoming track of the show will bring much drama and suspense in the show.
As per latest track of show Vanraj is back to his family where he also wants to reconcile his relationship with Anupama.
However Kavya makes her comeback with cunning plan to get Vanraj back, while Anupama will be seen all in dilemma again.
Kavya's threatening to Vanraj creates drama in Shah family
While amid all this Kavya is furious seeing Vanraj and family where she threatened Vanraj to go with him else she will ruin everything.
Vanraj will be seen hurt as family is still with him but Kavya is proposing false terms.
What will be reaction of Vanraj over Kavya's drama?
It would be interesting to see what will happen next in the show Anupama.
Stay tuned with us for more exciting updates and upcoming twists in the show.