Choti Sardarni: Param biggest mistake ever turns Mehar's secret agenda (Future story)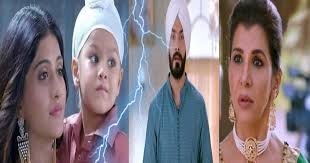 Choti Sardarni: Mehar asks for property, Param in all new trap
Choti Sardarni is one of the famous and most popular show of Colors Tv casting Mehar (Nimrat Kaur Ahluwalia) and Sarbjeet (Avinesh Rekhi) in main lead.
It was seen that Mehar ended Tarkash's drama where entered Dhillon house to demand her own right in property.
Owing to which, Kulwant Kaur and Mehar get indulged in heated argument over same and Kulwant taunts Mehar over Karan and Param.
Param suspended Mehar turns support system
Where further Mehar gets call from Param's school that Param has been suspended from school for misconduct.
In upcoming show Mehar will be seen supporting Param over the same sidelining her property drama, while Sarbjeet will get furious over this,
What will be Mehar's secret motive behind all this?
It would be interesting to see what will happen next in the show.
Till then stay Tuned with us for more updates and exciting updates for your favorite shows.