Shakti Astitva Ke Ehsaas Ki: Preeto hard slap to Shanno over disgusting act (Future story)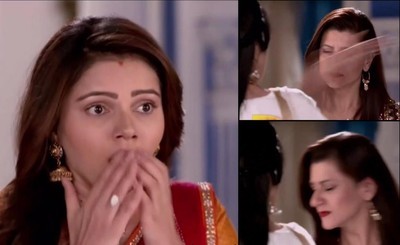 Shakti Astitva Ke Ehsaas Ki: Preeto, Soumya worried for Heer, Shanno suspicious
Colors Tv' most popular and lovable daily soap show Shakti Astitva Ke Ehsaas Ki is up for some high voltage melodrama and court room big siyapa.
As per latest track of the show Shanno is desperate to know Heer's reality where Shanno is ready to do anything.
However where further amid all this there is new suspense in the show where Shanno takes Heer to room to get her kinner truth.
Preeto hell furious over Shanno and her drama
However where at this point heer managed to escape from Shanno's trap where Preeto gets hell furious over Shanno for doing so.
While amid all this new drama is still there where Preeto lashes out at Shanno and slaps her hard to stay away from Heer.
What will be Shanno's next move to know the truth?
It would be interesting to see what will happen next in the show Shakti Astitva Ke Ehsaas Ki.
Keep watching Serial xPRESS.com for more exciting updates and upcoming twists in your favourite shows.