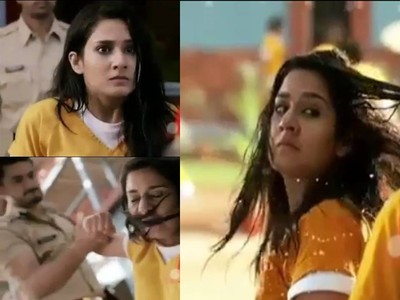 Naamkaran: Avni (Aditi Rathore)'s bad condition in jail Neil (Zain Imam) unaware of all this
Star Plus' most popular show Naamkaran will showcase more drama and interesting twist in Avni and Neil's life because of jail track.
Avni has saved Neil where amid all this, Guru maa entered in Avni's jail where she is showing her evil dramas to her.
Amid all this, Jail's environment has also changed where new jailor is showing her butcher avatar over prisoners and all thinks that this all happened because of Avni.
Where further, all inmates starts hating Avni and Avni is shattered with all this.
Guru Maa shields Monica from Avni
Further Avni and Monica get indulged in heated argument where Avni tries to harm Monica.
But shockingly, Guru Maa comes in between saves Monica and burst out at Avni.
This drama doesn't stop here as further, Monica and Guru maa makes some plan to torture Avni in jail.
How Avni will handle all this?
It would be interesting to see what will happen next in Naamkaran.
Keep watching this site for more exciting updates and upcoming twits in the shows.