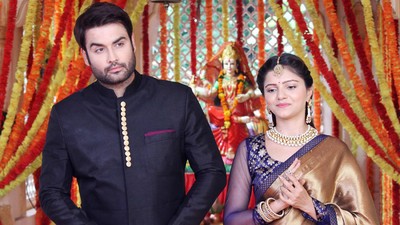 Shakti Astitva Ke Ehsaas Ki: Maharani and Mohini's one on one drama in Soumya (Rubina Dilaik) and Harman life
Colors Tv's unique and most popular show Shakti Astitva Ke Ehsaas Ki is up for more exciting melodrama and twists in upcoming show.
Soumya is on full mission to throw Mohini out of house and thus uniting Preeto and Harak Singh again.
Where amid all this, Bangkok Maharani has returned to take revenge from Soumya and Harman.
Mohini is also aware that Maharani has returned to ruin Soumya's life, thus she joins hands with Maharani against Harman and Soumya.
Maharani's strong war to trap Soumya
There is celebration in house where Soumya, Maharani and Harman is there.
Further, Maharani wants to control Soumua thus, she shouts Soumya that there is poison in Harman's drink.
Soumya get hell shocked with all this and rushes to save Harman.
While this all is Maharani's warning to Soumya to follow her else she will kill Harman and thus traps Harman too.
What will Soumya do now?
It would be interesting to see what will happen next in the show.
Keep watching this site for more exciting updates and upcoming twists in the show.