YRHPK: Kuhu silly goof up pushes Kunal in double trouble goon attack ahead (Future Episode)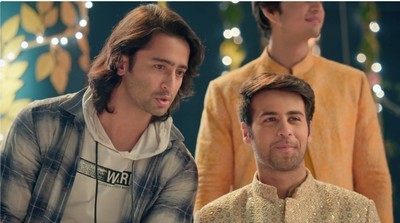 Yeh Rishtey Hain Pyaar Ke: Mishti (Rhea Sharma) Abeer (Shaheer Shaikh) perplexed with kuhu (Kaveri Priyam) and Kunal (Ritvik Aarora) troubles
Star Plus' lovable daily soap show Yeh Rishtey Hain Pyaar Ke is up for some high voltage melodrama and more interesting twists in upcoming tracks.
As per latest track of the show Mishti and Abeer are in Champernar where Kuhu planned to stay close to Kunal with help of NGO work.
While after all this Kunal decided to meet with Abeer where shockingly Kuhu also joined to stay close to Kunal.
Kuhu and Kunal in goon trap, new problem ahead
But unaware of upcoming trouble where duo gets kidnapped by mysterious kidnapers, while Mishti and Abeer gets into mission.
However where further amid all this there is shocking climax of Mishti and Abeer's nok jhok where Kuhu and KUnal gets trapped In all this.
It would be interesting to see coming up spicy drama, and what will happen next?
Keep watching this site for more exciting updates and upcoming twists in the show.