Virat Kohli & Anushka Sharma blessed with baby girl, Virat shares privacy concerns (Celebrity Gossip)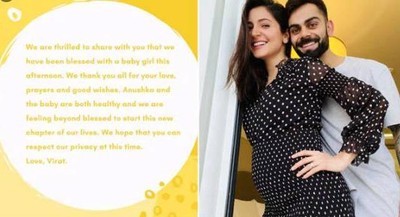 Virat Kohli and Anushka Sharma is blessed with baby girl, shares emotional message
Virat Kohli and Anushka Sharma announced Today (Monday) that couple were blessed with baby girl.
India Captain Virat Kohli and beautiful actress Anushka Sharma were blessed with daughter where Virat Kohli shares emotional message on internet.
Where Virat Kohli added that," We are thrilled to share with you that we have been blessed with a baby girl this afternoon. We thank You all for your love, prayers and good wishes. Anushka and the baby both are healthy and we are feeling beyond blessed to Start this new chapter of our lives. We hope that you can respect our privacy at this time. Love, Virat."
Congratulations to couple Virat Kohli and Anushka Sharma
Our team gives blessings and pour congratulations in for Virat Kohli and Anushka Sharma
While Virat Kohli and Anushka Sharma are also concerns that they will look more carefully toward privacy.
Stay tuned with us for more exciting updates.
Latest Virat And Anushka Updates